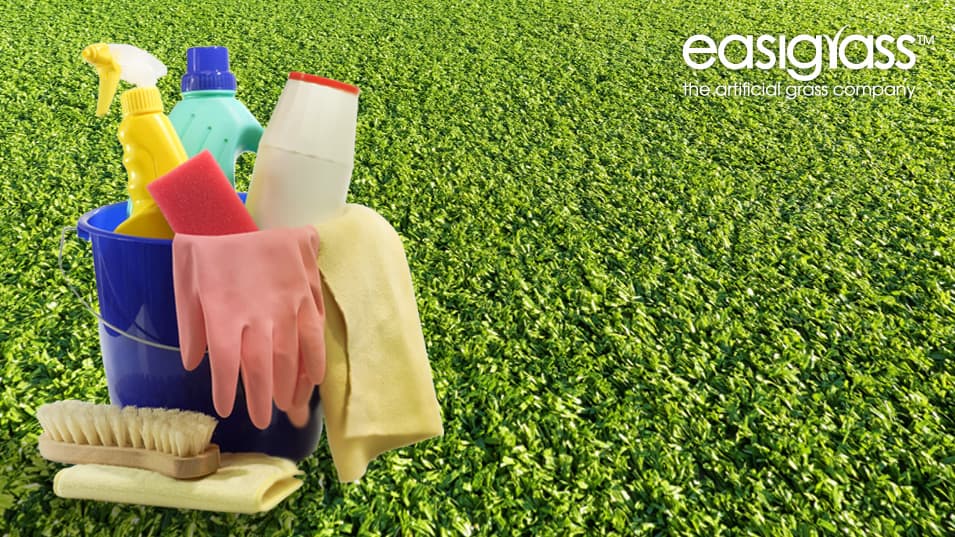 16 Jul

Tips for keeping your artificial grass clean and in top shape

One of the joys and benefits of having artificial grass is the ease of keeping your synthetic turf clean and neat with minimal maintenance. However, just like any other surface, it is prone to spillage, stains and accumulating debri, but maintaining it needn't be a chore if you follow these simple steps.
Getting rid of leaves, dust and other debris
As a matter or routine, it is good to 'sweep' your synthetic turf once every week or two. However, be sure to use a rake or firm brush that does not cause breakage. An outdoor rubber brush is probably best, provided that the surface is not damp or moist. You could also opt to gently hose down your grass if you don't mind the extra water usage, and are not in a drought-impacted area.
If you're lucky enough to own a leaf blower, gently air migrate the debri to sections where you can scoop it up with a pan or vacuum it up.
Keep the following products away from your fake grass
First things first. Your synthetic grass is not immune to the effects of harsh chemicals and you will spoil it over time if you indiscriminately use anything you can find to clean your lawn.
Take a common sense approach. For example, avoid paint as it would be hard to treat and remove without leaving visible, lasting damage on your fake grass. The same is true of alcohol-based cleaning agents, or acid-based cleaning solutions. You will break down the grass fibres as well as diminish the colour quality of your artificial grass. If in doubt, do as you would with clothing and test on a small patch first.
How to clean artificial grass and get rid of most stains
Most stains will arise from ordinary household issues such as dropping food or beverages during outdoor meals or social gatherings. First, get rid of excess damp by sponge- or towel-drying the area. Next, use a soft cleaning rag or brush with gentle but firm bristles to apply a cleaning agent and remove the stain. Please speak to your Easigrass partner for available products.
How to clean artificial grass from dog urine
Keeping your artificial grass pet friendly is a breeze with Easigrass, as our synthetic grass was inherently designed with your furry friends in mind. Some dog urine tends to have a strong smell, which is from the ammonia as well as the uric acid in it. Left untreated, the ammonia becomes more concentrated and converts to methanethiol, a sharp smelling gas. We advise dog owners to regularly rinse the surface with water, particularly in hot, dry weather.
If you need regular urine management on your artificial grass, we highly recommend our market-leading product, EasiPong, which is a powerful combination of ammonia-eliminating enzymes and odour-eating bacteria.  Available from your nearest Easigrass partner.
Consider scheduling professional maintenance
Reap the rewards of your Easigrass artificial grass investment for decades to come by opting for a professional Easigrass maintenance plan. This scheduled maintenance visit (recommended once every six – 12 months) not only ensures that your warranty isn't compromised, it also keeps your beautiful synthetic turf looking as lovely and smelling as the day you installed it!