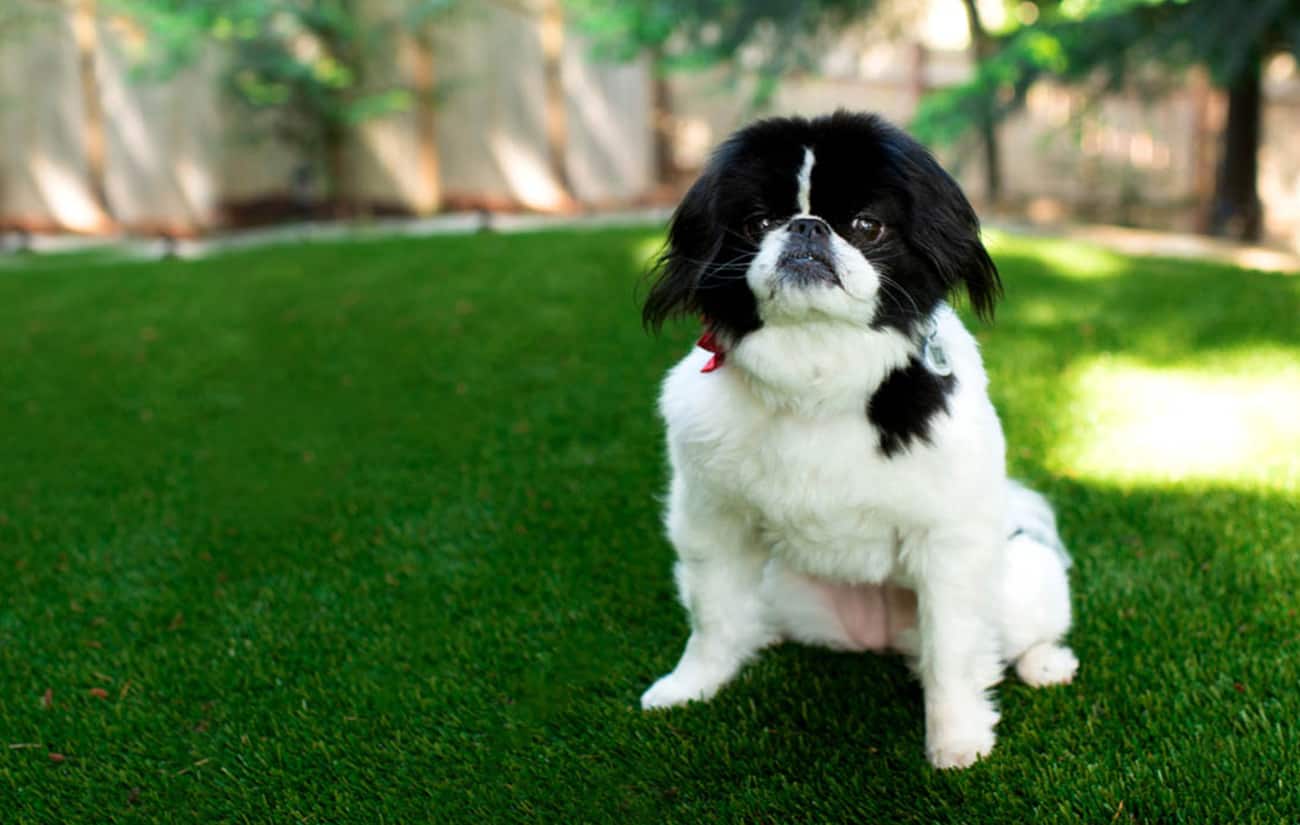 12 Feb

5 Reasons Why Pets Love Artificial Grass

Artificial grass not only looks beautiful and is an excellent investment in your property, but another benefit of fake grass is that it's well-loved by dogs, cats, and other pets who enjoy spending time in your garden.

We often get asked if synthetic grass is suitable for pets. In fact, one of the reasons why many of our customers consider artificial grass in the first place is because they find it challenging to maintain a lawn with pets who often dig holes in the grass and leave behind stained "toilet" patches. The short answer is YES – pets absolutely love it! Here are just a few of the amazing benefits that give our artificial grass two paws up from our furry friends.
1. No Harmful Chemicals
With artificial grass, you no longer need to use any harmful chemicals, pesticides, weed killers or fertilisers that you would with natural grass to keep it looking green and healthy. You will have peace of mind knowing that your precious pooch or pet won't eat something they shouldn't or be exposed to harsh contaminants that may cause adverse reactions. Easigrass artificial grass is toxin-free and made with no harmful ingredients.
2. Tough and Durable
Dogs and pets love to spend plenty of time playing outdoors and catching a few winks in the sunshine. With artificial grass installed, they can play to their heart's content with all the rolling and romping around they like, with no damage to your garden. Easigrass is tough, durable and will continue to look pristine and perfect all year round.
3. Clean and Neat
Say goodbye to dirty muddy paws that get traipsed through the house. Dogs with longer hair can also pick up lawn debris like dead grass, small sticks, and seeds when rolling in natural grass (especially after it has just been mowed), which are then brought into the house. There is no dirt or topsoil exposed in artificial grass, so your pets will always remain neat and clean after playing outside. Natural turf also tends to leave stained or dead patches where your pup does his business, causing your lawn to look dry and patchy. The Easigrass pet-friendly artificial grass range is fully porous, and allows for your pet's waste, like poop and urine to drain through and decompose in its natural state. To assist with natural decomposition, our team can introduce bio-enzymes to help break down matter and introduce a healthy, natural ecosystem.
4. No More Fleas and Bugs
With natural grass, you can expect fleas, ticks, and other nasty little critters that can create a nuisance for your pets. Artificial grass doesn't create an environment for these pests to thrive, so your pets can have the freedom to roll around with no harm or injury from bugs.
5. They Won't Know the Difference
Pet owners are often concerned that their beloved furry friend won't like the sensation of artificial grass, but we're here to put those concerns in the 'doghouse' because pets can use artificial grass just as they would with natural grass. Not only does Easigrass look incredibly realistic, but it also feels comfortably soft too. It is fully porous, UV-stabilised and is suitable for installation on soil, tarmac, concrete and decking. This delivers a safe, soft, hard wearing surface for happy little paws.
Pet-friendly Artificial Grass
Easigrass offers a range of technologically advanced artificial grass suitable for pets, developed from 30 years of experience of installations. As pet owners ourselves, we know there's no need for dog and cat owners to compromise between a great looking garden and a happy animal. With good drainage and no mud, harmful chemicals and bugs, your pet will thank you for a happier, healthier life!
If you're considering pet-friendly artificial grass for your garden, contact Easigrass today to discuss your requirements and get a FREE no-obligation quote.