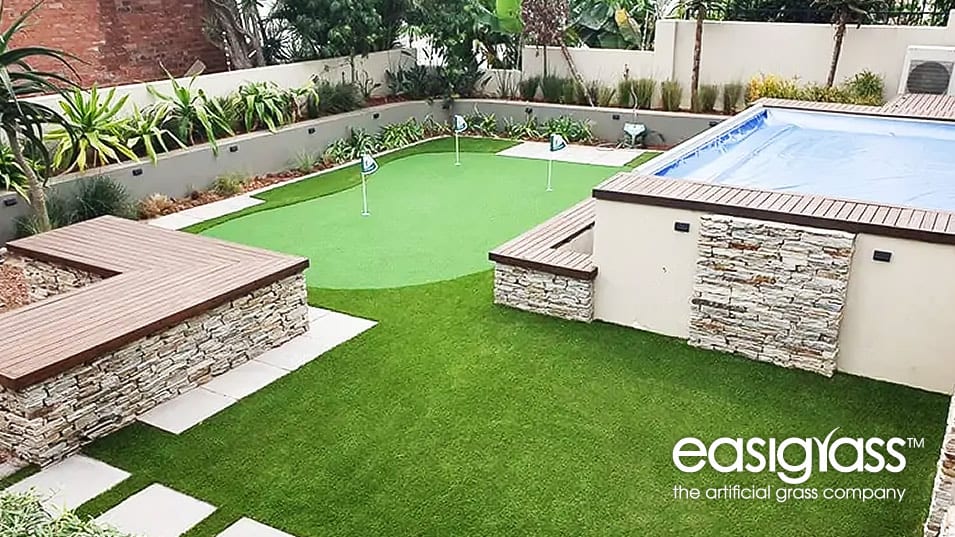 26 Jul

Creating an Artificial Grass Golf Putting Green 

If you're looking to improve your short game or simply want to create a fun entertainment area in your backyard or office terrace, a golf putting green is the perfect addition to your property. Here are a few tips, ideas and things to consider when it comes to installing an artificial grass putting green.
Benefits of an artificial putting green
Although they're called putting greens, you can also use yours for chipping purposes as well.
A backyard putting green is a great way to get outside and spend time together with loved ones. For offices, it's a wonderful way to boost company morale and bond with colleagues during the lunch break or Friday afternoon drinks.
There's no need to plan your putting practise around the weather and condition of the golf course – you can enjoy it all year-round in the privacy of your own home.
Real vs synthetic putting green
A real grass putting green takes an enormous amount of maintenance and upkeep, and unfortunately there's a lot that can go wrong if you don't have the know-how and tools to look after one. Artificial grass, on the other hand, provides a fantastic recreation of genuine golf greens.
While the initial cost of installing synthetic green is larger than real turf, it actually works out to be more cost effective in the long run as there is a lot less ongoing maintenance. (Check out our post "How much can you save with artificial grass?").
Another reason to choose the synthetic grass route is that it can be placed in almost any garden, whereas real grass usually requires specific and favourable conditions.
Things to consider
A putting green can and should reflect your skill level and personal preferences. Here are some aspects to consider:
Will the green be used for avid golfers, or for leisurely fun and entertainment?
Will this putting green be used for longer shots or for putting and chipping only?
How much of your space are you willing to use for the green?
Are there any specific characteristics you'd like to include? For example, contours, undulations, etc.
For larger spaces, are you considering additional practice elements, such as sand bunkers, mounding, retaining walls, etc.
What shape would you like your green to be? Since artificial grass can be fitted to curves, straight edges or corners, the sky's the limit! You can also customise the green to accommodate existing structures or landscaping in your yard.
The turf used in putting greens is similar to that used on hockey fields , tennis courts as well as  cricket nets. So being a bit creative with the shape and adding hole covers over the holes  , you can use your putting area to practice for a variety of other sports.
Choosing a location
You can install a golf putting green in your backyard, a large patio or balcony, and even on a flat rooftop terrace. Our team can install the synthetic turf on just about any surface including soil, tarmac, concrete and decking.
It's a common perception that you need a huge amount of open space to create a golf putting green. While of course this does help with larger designs, you can very easily create a one-hole putting green in a small urban garden or patio very easily and affordably.
Another important factor in choosing the location is safety. Ideally your green should be away from windows, cars, and sitting areas to avoid the risk of injury or damage.
Putting Green Design tips
There are endless design opportunities to make a truly amazing and unique golf putting green:
Purchase custom tee markers and flags to make your green your own. If it's at your office, how about flags with your company branding on it?
Beautiful lighting around the green will ensure you can get your putting practise in at any time of the day or night.
Keep it fun and challenging by adding ponds and sand traps to make the game more exciting.
Which artificial grass to choose
Easi Sport
Also known as Astro, Easi Sport is the ideal artificial grass product to create your dream indoor or outdoor golf putting green. It features a 13mm pile height, the latest technology texturised monofilament yarns, is UV resistant, and is one of our most durable products.
Trafalgar
Our Trafalgar artificial grass is a more affordable golf putting green option that is often used to liven up balconies and patios or as an indoor carpet. It features a 10mm pile height with PP texturised yarn technology, bi-colour grass, and very low maintenance.
Whichever type of artificial grass you choose, all our products come with UV protection.
How much does a backyard putting green cost?
A putting green can cost between R 280 to R740 per square meter, although the price can vary depending how complex the design and installation is , as well as what turf you have decided on.
Maintaining your putting green
Thankfully, one of the biggest benefits of fake grass is that it requires very little maintenance. To keep the green looking lush and clean, it's a good idea to sweep your synthetic turf once every week or two, to remove debri and fallen leaves. A leaf blower will be a handy tool for the job, otherwise use an outdoor rubber brush that does not cause breakage. We also recommend that you reap the rewards of your Easigrass artificial grass investment for decades to come by opting for a professional Easigrass maintenance plan.
Ready to tee off?
Our team of skilled and experienced artificial grass experts are ready to create the putting green of your dreams! Allow us to design a custom space for your needs and skills, whether it's a simple green with one hole, to more intricate designs featuring multiple holes and challenges. Contact the Easigrass team today for more info and a free quote.