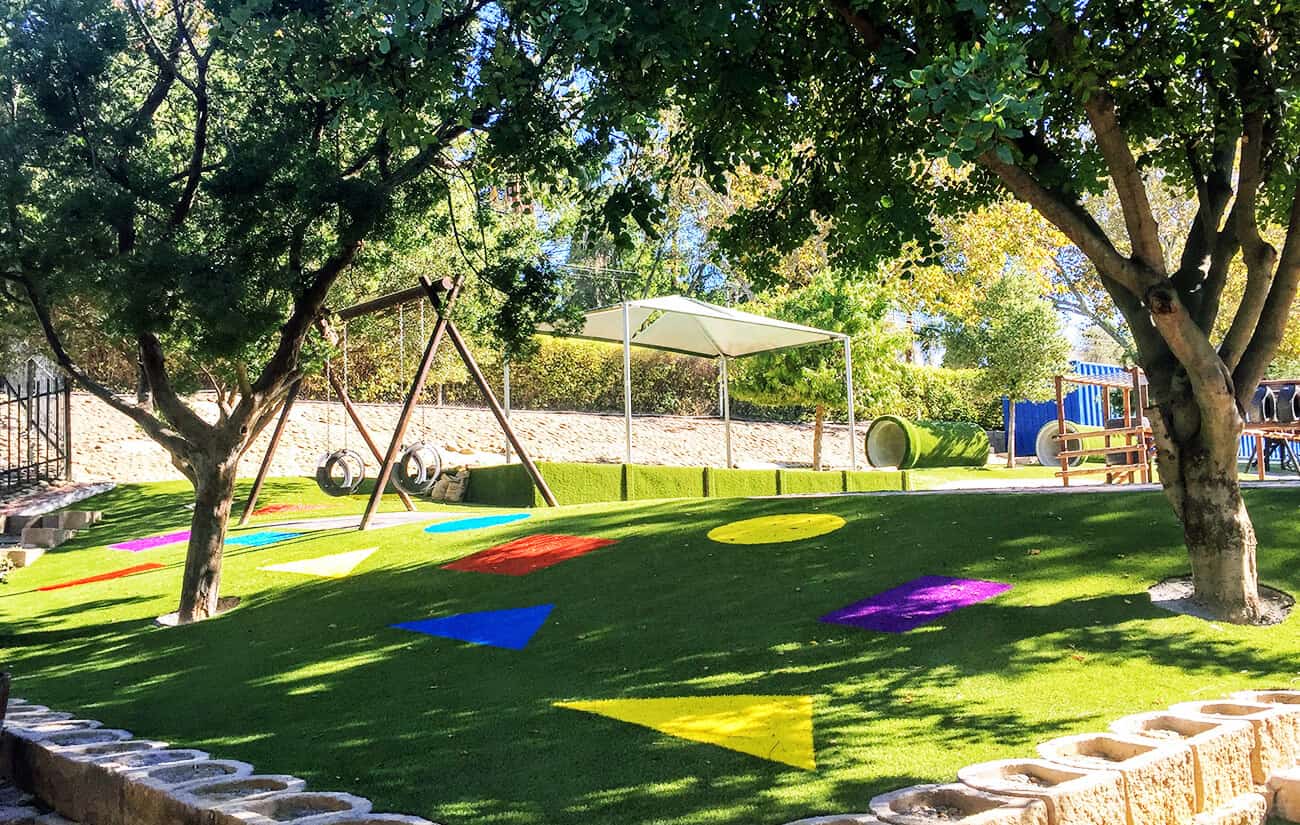 31 May

Advantages of choosing artificial grass for gyms, schools, and playgrounds.

Whether at the school sportsground, playground or the gym, here's why artificial grass should be your go-to floor covering.


High-usage and heavy traffic floor areas such as gym flooring, playground surfaces and play areas require hardworking flooring solutions that are safe. Our artificial grass solution meets all these criteria, is cost-effective over the long term, and as 'fake grass', is attractive to look at as well. Here's why synthetic turf remains a top floor covering of choice for high volume footprint areas.
Ease of maintenance
Forget mowing, weeding and pest control. Your synthetic grass in the children's play area or your gym grass flooring will remain green and in top shape all year around, provided you adhere to basic protective measures. Remove everyday build-up such as dust or grit from underneath shoes by brushing your artificial grass gym flooring well.
Rinse down the area after washing it with soapy detergent, should there have been any stains to remove. A big plus is that pet urine will not cause brown stains but there may have been other kinds of accidental spillage on the 'lawn'. When rinsing, use a strong but not harsh flow of cool water. Finally, brush your fake grass to maintain the longevity of the fibres.
Whereas paying for a garden service to maintain natural grass (which requires considerably more looking after), keeping your artificial playground surface looking great for years to come will take you way less time – and a much smaller chunk of your budget.
A stain-free floor surface solution
An Easigrass artificial playground surface is the perfect solution for busy caregivers – no more having to wash green stains of your kids' clothing. As a synthetic turf, Easigrass is chlorophyll-free, so there's no 'green' transfer to clothing or shoes.
Health and safety-focused installation
Our Easigrass surfaces are also hypoallergenic. Both children and adults can suffer from reactions such as sinusitis to ordinary or freshly cut grass, or, for example, to other rubber-based synthetic floors. Thanks to the highest level of manufacture and installation procedures, years of pioneering excellence and overall health and safety standards, our Easigrass surfaces are safe and allergen-free.
We can also install a shock absorbent underlay for extra safety and comfort to meet your synthetic playground, sportsground or gym needs.
Ongoing commitment to environmental safety
Our award-winning synthetic turf is not only super durable, but also easy on the environment, too. Despite being hugged by a coastline and having good dam catchment infrastructure, South Africa officially remains a water-scarce country. Drought is a common seasonal feature in many areas of the country – as is the pattern when it comes to water supply globally. Easigrass requires no regular watering in order to look good, and as the grass is perforated, all natural water is filtered into the soil, which is great for the environment.
Another environmental benefit is that you won't need to use harmful pesticides to suppress weeds or encourage green grass growth. No wonder Easigrass both supports, and is loved by, leading horticultural societies.
The case for investing in premier, artificial grass such as Easigrass is a compelling one if you're looking for a safe, attractive, cost-effective and durable flooring solution, whether you are looking to cover a big garden or small urban space. It's a decision you'll be happy you made for many years to come.
Ready to transform your space? Contact Easigrass today for a free quote.