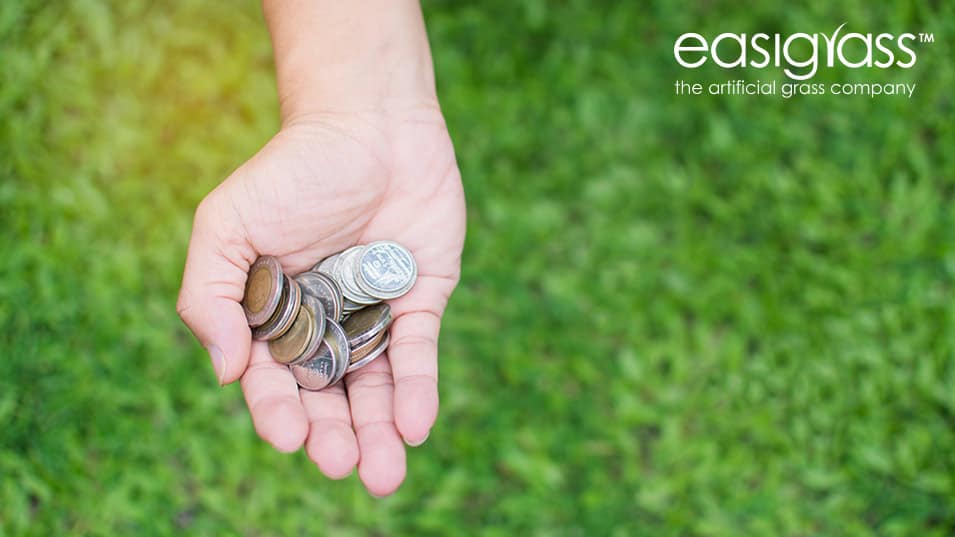 02 Sep

Artificial Grass to Suit Your Budget

When it comes to giving your garden, patio or balcony a makeover with artificial grass, your budget is one of the biggest deciding factors on which synthetic turf product you choose. It's important to remember that not all fake grass is created equal – there's a whole world out there with different varieties that change depending on the quality, resilience, pile height, colour, density, and what you plan to use it for. All of these factors affect the cost of the product.

Being one of the largest suppliers of artificial grass in Southern Africa, you can be guaranteed that we will have a product that suits your budget. Easigrass pile heights (more on that below) range from 10mm in our budget range, up to 38mm in our most luxurious option. As you go up the range, the density of the grass also increases, which provides extra comfort and cushioning under foot.
What is pile height?
Pile height is the measured height (in millimetres) from the carpet or artificial grass backing to the top of the surface fibres. Depending on the purposes and uses of your outdoor space, different pile heights can be useful in different settings. For example, a high pile height will have a luxurious soft look and would do well in a garden setting. A short pile height is ideal for play areas, sport applications and other high footfall traffic areas.
Budget-friendly Artificial Grass
If your budget is quite tight or you wish to green up a small area, we have some fantastic cost-effective options that'll do just the trick.
Easigrass Trafalgar is our most affordable artificial grass product, and is ideal to liven up a patio, rooftop or balcony, or to use as an indoor carpet. It has a 10mm pile height and is very resilient, low maintenance as well as pet-friendly.  From R 145 per square metre.
Mid-range Artificial Grass
Knightsbridge is designed to replicate South African grass, and is our longest standing, tried and tested product in our range of artificial grass for over 8 years. It ticks all the boxes being cost effective, child- and pet-friendly, resilient and highly versatile. It features a newly-increased 25mm pile height, giving it a softer, more natural look.  From R195 per square metre.
Kensington is our best-seller, and for good reason. It's affordable, durable, fantastic quality and looks just like the real thing – only without all the maintenance that comes with natural turf! It features a 30mm pile height, giving the appearance of soft natural looking grass. From R285 per square metre.
Easi Sport is one of our most durable products, designed for heavy footfall in high traffic areas. The 13mm pile height makes it ideal for multi-sport surfaces such as home tennis courts, golf putting greens and kids' play areas. From R310 per square metre.
Play Elite, as the name suggests, is made for having fun. We know how much kids love to run, tumble and jump, which is why this range is one of our most durable options available. The 25mm pile height means that the grass is still soft to the touch and underfoot, along with an optional shock pad for added protection from hard falls. From R310 per square metre.
High-end Artificial Grass
For that real wow factor, Windsor is the Rolls Royce of artificial grass and can transform any outdoor space into a show-stopping masterpiece. Long, lush and of exceptional quality, it features the latest state of the art grass technology, and is a RHS Chelsea Flower Gold Award Winner. Need we say more? From R 330 per square metre.
The Choice is Yours
Whether you choose a high-end or a budget-friendly option, with Easigrass award-winning artificial grass products you can rest easy knowing that you're making an investment that will save you plenty of time, effort and money in the long run. (Want to see how exactly? Check out our post "How much you can save with artificial grass")
Now that we have given you a few pointers on choosing an artificial grass for your budget, feel free to get in touch with an Easigrass partner near you, who would be happy to provide you with a free quote and answer any questions you might have in achieving your dream garden.