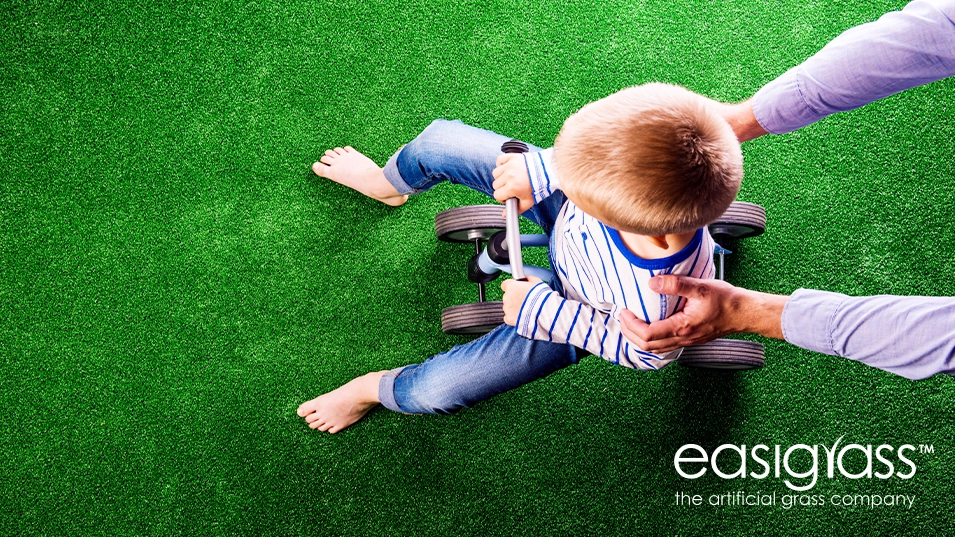 14 Feb

Can Artificial Grass Improve Your Mental Health?

Research shows that spending time in nature has a host of benefits that can help improve your mental health, including lowering stress, boosting your mood and reducing anxiety and depression.

Life is often filled with endless to-do lists and rushing from one location to the next, so prioritising your mental well-being is vital. However, when there's no time to stop and kick up your feet in the great outdoors, you may need to look a little closer to home. Enjoying the beauty of your backyard can be a convenient option when cultivating an emotionally healthier you, and a well-landscaped garden can help you achieve this.

While it's common knowledge that installing artificial grass has a range of benefits, you may not know that one of those benefits includes improving your mental health.

Here are four mental benefits that come with installing synthetic grass:
Say goodbye to your long list of chores
Heading into the weekend should be a joyous occasion. Unfortunately, many of us have a long list of chores we need to complete before we hear the infamous Carte Blanche theme song. Installing artificial grass is a great idea if you're looking for a low-maintenance option that doesn't require too much maintenance. Gone are the days of having to pull out weeds, mow your lawn and try and salvage the dying portions of your natural lawn. Synthetic grass is a natural-look alternative that provides all the benefits of natural grass. The best part is that you can enjoy a lush lawn all year round – and who doesn't love that?
You can do what you love
With so much free time on your hands, you can now use that time to indulge in the things you actually enjoy. Doing things you love, whether it's reading a book or doing laps in your swimming pool, is a great way to improve your mental health. Creating a balance between work and play is crucial, and the low-maintenance benefit of installing artificial grass can bring you a little closer to this balance.
There's less mess
If you have little ones or pets, you've certainly felt the frustration that comes with constantly cleaning muddy footprints. With artificial grass installed, kids and dogs can play in the garden without trailing mud and dirt inside, keeping your home cleaner and your stress levels down. Easigrass™ has excellent drainage with holes every 10cm. It drains more effectively compared to natural grass, so there's no need to worry about heavy downpours causing puddles in the winter.
It helps create work-life balance
Stepping outside on a busy day filled with spreadsheets and documents isn't always possible. The solution? Bring the great outdoors inside. Since the global pandemic, there's been a huge focus on creating a work-life balance, and adding a not-so-subtle touch of nature with indoor plants and artificial grass can help achieve this. Whether it's a bustling office, school or public building, Easigrass™ professional installation can transform your commercial space into one filled with peace and a touch of nature.
Stop and smell the roses
It's not always easy to slow down. However, life should be enjoyed doing the things you love with the people you care about. Replacing regular turf with low-maintenance artificial grass is a wonderful way to free up your time and enjoy the beauty of your home and outdoor space.
Ready to prioritise your mental health by transforming your garden with our award-winning products? Contact an Easigrass™ partner near you today for a free quote.