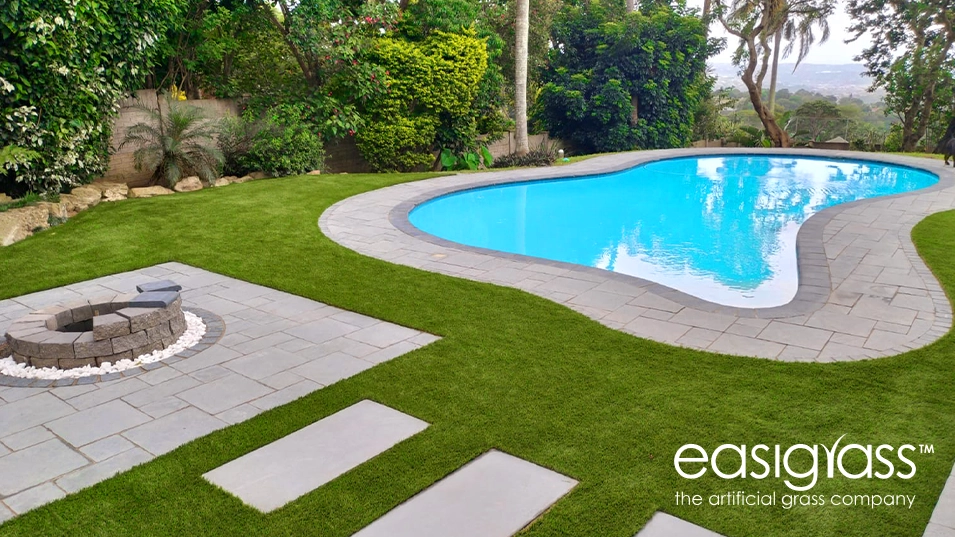 09 Jan

4 Benefits of Artificial Grass for Swimming Pools

The days are growing longer, and the sun is shining just a little brighter. With summer finally here, it means plenty of time to enjoy your sparkling swimming pool and relax on your favourite flamingo floaty.

When it comes to designing the look and feel of your pool area, harsh concrete and natural grass have always been the go-to choices. However, artificial grass is certainly giving these options a run for their money as it has become a popular choice for many South Africans.

While we all know there are endless benefits to installing artificial grass, what does this mean for your swimming pool?

Here are a few of our favourite reasons why artificial grass is the perfect choice to use around your pool.
It's the perfect summer companion
Have you ever spent a hot summer's day enjoying the cool waters of your swimming pool, only to get out and hop about burning your feet on scorching concrete? One of the best things about installing artificial grass is that it's perfectly suited for climates with extreme temperatures (hot or cold). With temperatures reaching a whopping 35℃ in some parts of South Africa during summer, artificial grass is a great addition to ensure your garden remains lush and green while also avoiding burnt feet.
It's A Safer Option
We understand that kids don't always listen to the warning: "don't run around the swimming pool," especially when they're having too much. Unfortunately, accidents happen and falling on hard concrete can cause serious injuries. Installing artificial grass around your swimming pool is the perfect solution to avoiding slips and falls, thanks to its non-slip feature. Synthetic grass is also soft and lush when compared to natural grass, which helps reduce the risk of scrapes and cuts.
It's Allergy-Proof
One of the most common triggers of seasonal allergies is pollen, and spring and summer are notorious for runny noses, scratchy throats, and sneezing. If you're still looking to enjoy a natural-grass experience without the grass pollen, Easigrass offers natural-look products that are a great option. This means more time in the pool and less time wiping your runny nose!
It's Low Maintenance
One of the biggest benefits of installing artificial grass is that it saves you money in the long run. Natural grass is infamous for needing tons of water during the summer season, but with artificial grass, you'll spend less time watering your lawn (and pushing up your water bill) and more time in the swimming pool. Summer days also mean plenty of foot traffic around the pool, which can contribute to lawn damage and pool litter. No need to worry about grass clippings clogging up your filters with artificial grass!
Summer Days Are Here To Stay…
No matter the season, installing artificial grass is a wonderful way to ensure your garden is green and vibrant 365 days a year. Easigrass has excellent drainage with holes every 10cm. It drains more effectively compared to natural turf, and allows rainfall to seep into the ground instead of collecting around your pool area.
With so many benefits, including low lawn maintenance, durability and a UV protection that can withstand the intensity of the African sun, there's no question that artificial grass makes the perfect "companion" for your swimming pool – no matter the season.
Contact an Easigrass partner near you today to get a FREE quote.