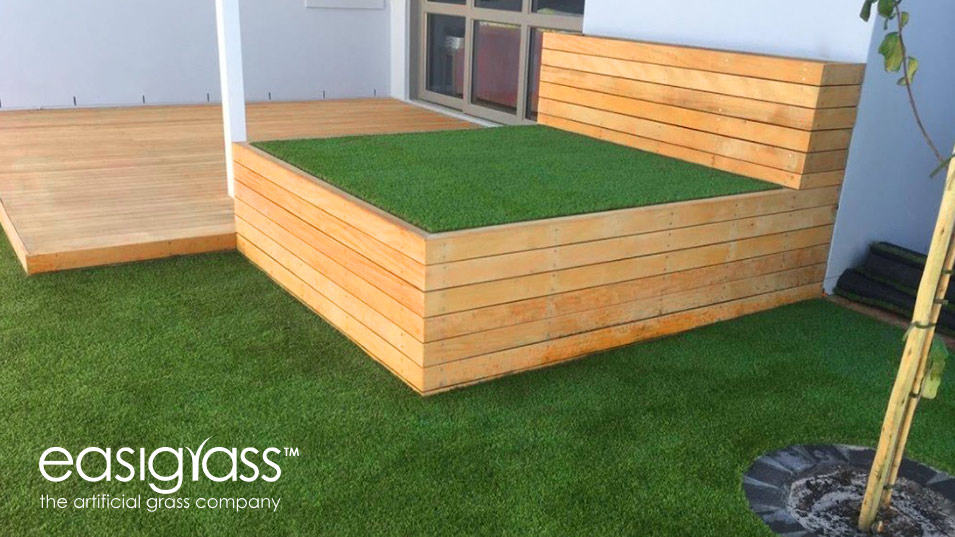 22 Sep

Creative Artificial Grass Ideas

The tried and trusted ways of using artificial ideas are many indeed – from using it to replace the maintenance hassle of natural grass in your backyard, to creating soft underfoot gym areas, playgrounds, and beyond. But synthetic grass is so versatile, that it lends itself to a myriad more wonderful decor ideas. Here are some lesser known, unusual ways and small spaces in which synthetic turf has been creatively utilised.
Revamp your roof with fake grass and transform it into a rooftop entertainment area
When it comes to adding value to your home in almost an instant, a rooftop lawn works wonders as an investment as it expands your living space and breathes novelty into what may otherwise be a small outdoor area or indoor space. It also has the effect of insulating your home, but without the heaviness of soil, earth and natural grass — or without what it would take to maintain it! There's no need to feel anxious about a wet build-up either – artificial grass is designed to drain well. Speak to your professional fake grass installer if you feel you want added, bespoke protective mechanisms built-in.
Create an indoor living wall
Many people create a statement wall by hanging picture frames, art, wall art, statement rugs and more. But, if you're into green decor such as indoor plants, cladding your wall with artificial grass whether in your bedroom or lounge, could help you recreate that 'outdoor feel' indoors. Add a few wall-mounted pots to hold your plants, and you've transformed the space into a serene 'living' wall inside.
Transform your outdoor boundary walls with a synthetic turf cladding
Speaking of walls, green walls outside are a sight for sore eyes compared to the usual grey cement walls on your perimeter, or the boundary separating you from your neighbour. Synthetic grass is durable in all weather conditions, so there's no need to worry about wear and tear for many, many years.
Additionally, cement walls often harshly reflect the sun's light, creating a 'white light' reflection over your plants or the rest of your garden and backyard space. A green wall will break this, and create a more soothing, natural look. You'll also automatically introduce a few gradients of shade as the harsh reflected light is broken and find that many more plants thrive more easily in your enclosed space as a result.
Great garden ideas for utilising fake grass
Some of the most creative ideas for gardens involve using artificial grass. Synthetic grass makes for incredible outdoor decor accents as a runner or pathway next to the pool, in between pavers, cement or wooden slats; or around a sunken pond.
One of the most novel ideas to 'green' an otherwise cement or wooden courtyard though has to be by covering that old outdoor bench, chair or lounger in fake grass. Or cover those cement pots in perfectly green 'grass'. Little touches of faux grass go a long way, proving that not everything needs to involve a budget at all!
One of our other favourite artificial grass ideas involves crafting a green day bed. All you need is a raised platform such as a wooden rectangular 'box' for your 'bed', then simply cover it with 'grass'! Depending on how far you want to go with the under-the-palm tree look, why not green your gazebo as well? For a final dash of dreamy, add a patch of faux green turf around the nearby water fountain.
Greening your space is always a winner, and won't cost the earth
Deft uses of fake grass can reinvent, transform and rejuvenate tired-looking spaces, creating a calming oasis wherever you feel – inside in the lounge, on the staircase instead of carpeting, or even to turn an unused passageway into a mini golfing putt-putt. It's important to remember that there are many options of fake grass to choose from, at a cost that suits you. The only limitation is your imagination.