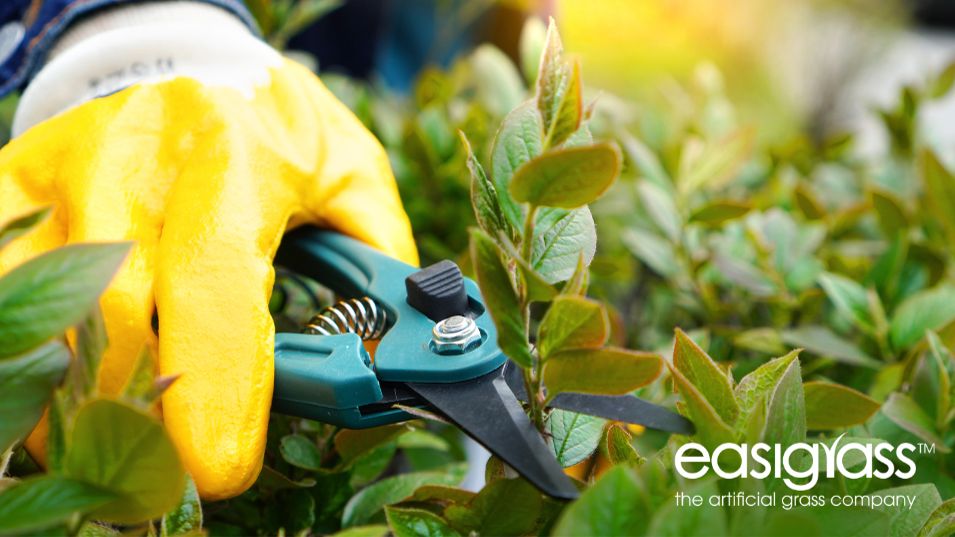 30 Jun

5 Garden Updates To Make This Winter

Everyone loves huddling around the fireplace with a steaming cup of hot chocolate, but don't let the cooler months stop you from getting your hands dirty in your backyard. While it may be tempting to forget about the garden and let Mother Nature take over, tending to your outdoor space during winter can help save you time and effort when spring rolls around.

Thankfully, your Easigrass™ artificial grass allows you to enjoy a green and pristine garden throughout the year, so half the work is already done.

Here are 5 garden updates to do in winter that will make springtime a breeze:
Get Soil Ready
There's a common misconception that tending to soil is reserved for spring, but the chillier months are a fantastic time to get your soil ready for planting. Here's what to do: dig organic matter such as compost and bone meal into the top 10 to 30 centimetres. This will add much-needed nutrients and give it plenty of time to break down, adding vital bacteria. With your soil filled with nutrients and ready for planting, you'll have more time to sit back and relax when the warmer seasons roll around.
Get Your Lawn Ready For Spring
One of the biggest updates you can take on during the winter months is to ensure your grass is neat and green for springtime. However, this may not be a simple task when you have natural grass. The solution? Make the switch to artificial grass before your garden wakes up from hibernation. Our award-winning Kensington Grass is designed to replicate South African grass, providing a natural look which is so soft to the touch you'll never know the difference. The Easigrass™ Team has over 30 years of experience and expertise and installs throughout the year, allowing you to enjoy the benefits of our grass products immediately.
Start Pruning
Late winter is the perfect time to prune overgrown and deciduous trees. Branches cut during the cooler months will allow new growth to develop during spring. Pruning during winter also allows you to avoid spreading disease, which is often a problem during spring and summer.
Tackle Shady Areas
The shady areas of your garden can be a challenge for even the most experienced gardener. Yellow and dry patches of grass and lifeless plants are a common occurrence in these low-light spots. Of course, removing the source of the shade (trees or shrubs) is out of the question, and the answer doesn't have to be laying the area with pebbles or a slab of concrete. Easigrass™ artificial grass is the perfect solution for those shaded areas, offering the added benefit of a gorgeous garden year-round. You don't have to wait until summer either! The Easigrass™ team is ready to help you enjoy a vibrant garden no matter the season.
Start Planning
Chilly days are the perfect time to snuggle up with your favourite garden design books, magazines and the Easigrass™ blog to help you plan your springtime garden projects. The winter season is also a great time to assess your backyard, as it's clear and exposed, allowing you to see exactly where you'd like to add plants or landscaping details. While your garden enjoys the nourishing rain outside, do some research and get ready for those warm spring and summer months.
The Ultimate Winter Solution
Your plants may be inactive during winter, but that doesn't mean you should be. The colder months are perfect to get a head start, allowing you to focus on garden tasks that you may not have the chance to get to during those busy months.
Replacing natural grass with durable, low-maintenance artificial grass is another fantastic way to minimise your garden to-do list and enjoy a green and beautiful garden during winter.
Have more time to enjoy your garden this winter by contacting an Easigrass™ partner near you today for a free quote.